Ongrid Solar System for Home Family
1. Features
Enable the factory to use both solar energy and utility energy from EVN during day time (this system will priortise solar energy over utility and only use utility power when needed)
Reduce energy bill from EVN, reduce the risk of rising energy price in the future.
Sell energy to national grid during days off.
Reduce energy usage during peak time (9.30-11.30) which usually charged a higher price.
2. Benefits
Reduce energy bill. Long operations period of over 25 years.
Payback after 4 to 7 years
Creating an environmental friendly production practices, reduce the imbeded carbon emission of each product. Can be used to be certified for certain production standard.
Fast and efficient solution intergration that factory can remain operation during installing, the solar system can be repurchased and moved to new location in the future.
3. Advantages
Increase heat isolation for roof area, reduce airconditioning cost and improve inhouse environment during summer time.
Maintainance are kept at minimum level.
Fully automatic.
Simple and fast installing. No need of changing or editing current electric system.
Long system usage, warranty period from 5-10 years, energy generation of over 25 years.
4. Operation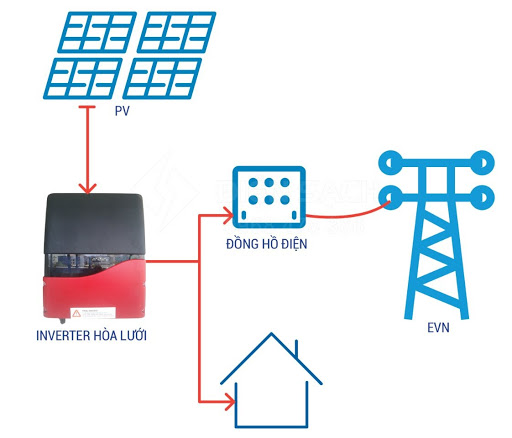 Solar panels generate energy from high frequency rays from the sun. Create DC power. Normally solar panel able to create energy from 6-7 AM till 17-18 PM.
Inverter transform DC power to AC power (1 phase) 220v 50Hz, combine solar energy with utility power.
Solar power are priortised for usage.
If there is not enough solar power for consumption, utility power will be used to cover the shortage.
If the solar system creates more energy than consumption, excess energy will be sell back to EVN, compensated for peak time usages.
5. For customers
Villa, house, smaill business,...
6. Sample proposal